Details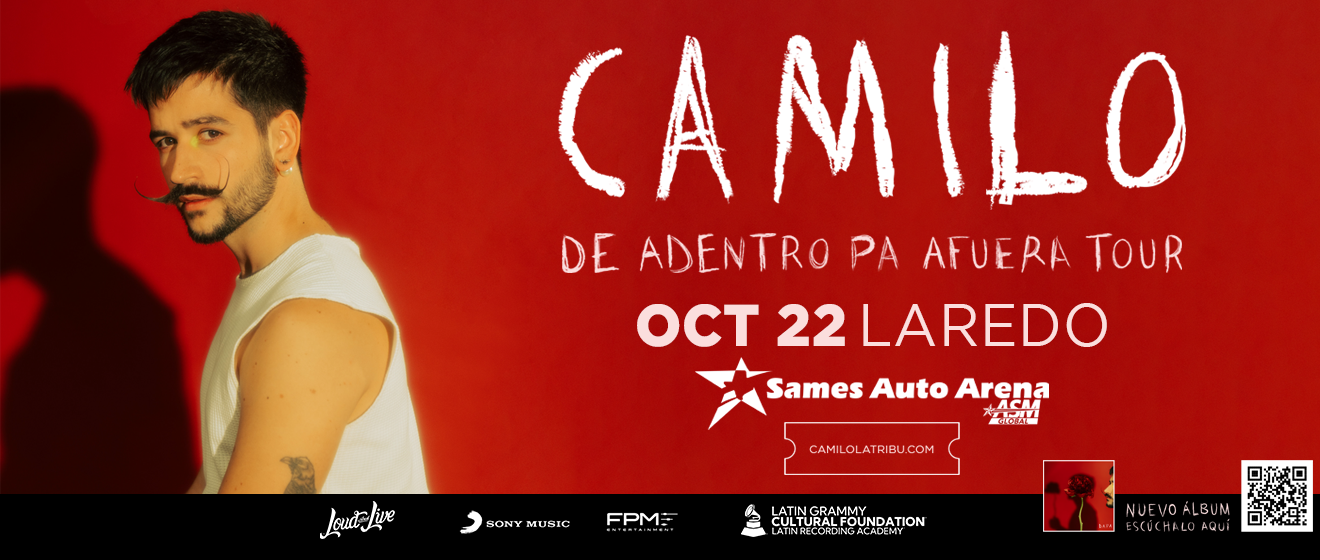 Saturday, October 22, 2022

08:00 PM / Doors Open 7:00PM
Buy Tickets
CAMILO
Anuncia Su Gira En Arenas de
Estados Unidos, Puerto Rico Y Canadá
Camilo – North American Tour 2022
Laredo, TX
– El aclamado cantautor cinco veces ganador del Latin GRAMMY® y dos veces nominado al GRAMMY® Camilo anuncia su próxima gira Camilo - North American Tour 2022. Presentado por la compañía de espectáculos Loud And Live, esta gira se emprenderá a partir del 27 de agosto en Radio City Music Hall de Nueva York, y seguirá hasta noviembre llegando a importantes ciudades como Miami, Houston, Dallas, Los Ángeles, , Chicago, Boston, Atlanta, Toronto y Puerto Rico entre otras.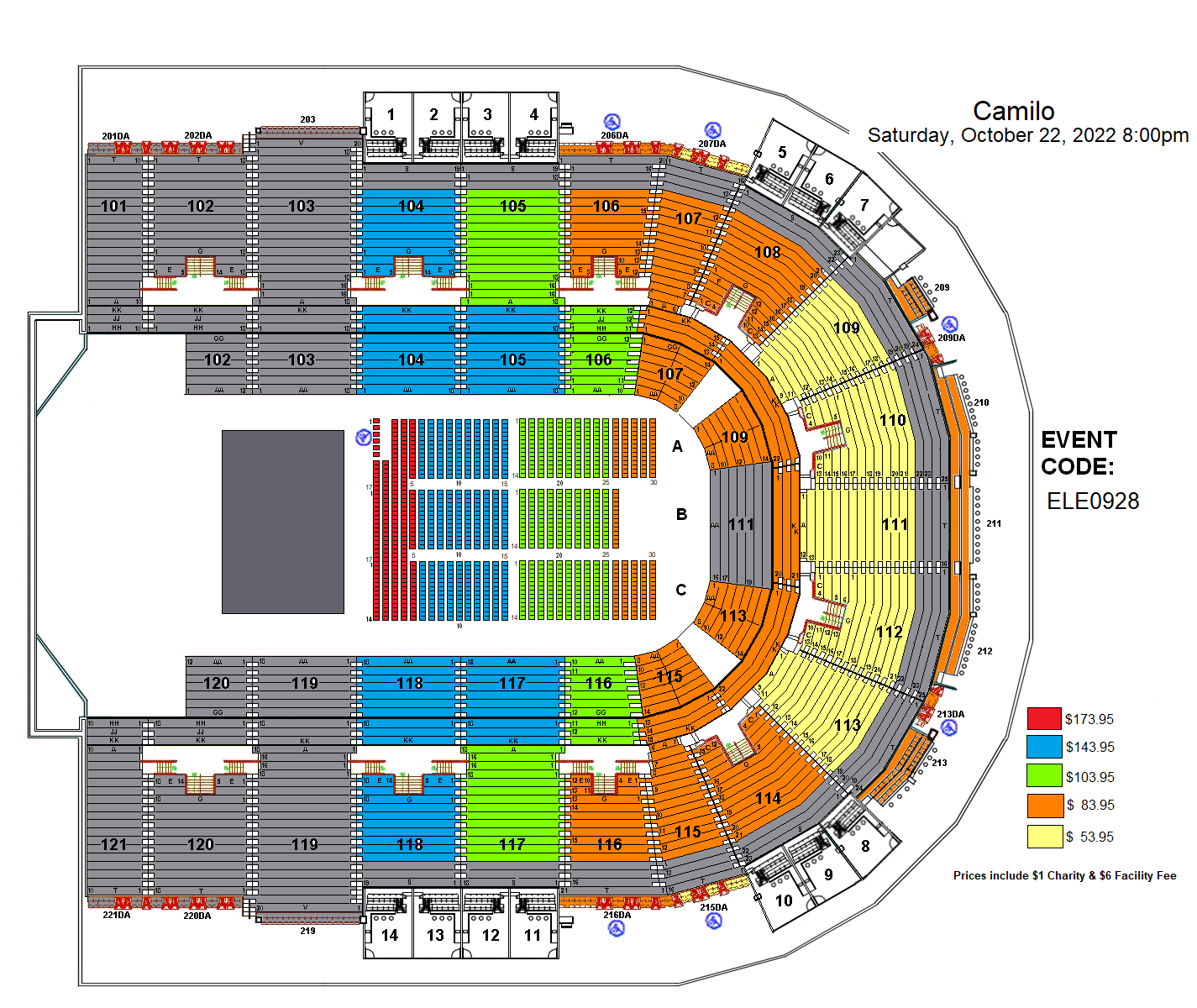 $173.95 | $143.95 | $103.95 | $83.95 | $53.95
(Tarifa de instalacion incluida)
Boletos disponible sen las taquias del Sames Auto Arena o Ticketmaster.com
Cabe destacar que, por primera vez en su exitosa carrera, Camilo ofrecerá su show en las principales arenas del país al igual que se presentará en dos ciudades de Canadá, lo que representa un gran logro para él y por supuesto para La Tribu que lo ha acompañado desde el principio.
"Después de haber colaborado en el 2021 en su primera e exitosa gira, Mis Manos US Tour, nos enorgullece anunciar el regreso de Camilo a las arenas de Estados Unidos, Puerto Rico y Canada con su nueva gira Camilo – North American Tour 2022", dijo Nelson Albareda, CEO de Loud And Live.
La preventa de entradas iniciará a partir del lunes, 28 de febrero a través de CamiloTour2022.com. La venta general al público comenzará el 3 de marzo a las 10AM local de cada mercado por CamiloTour2022.com.
Previo a iniciar dichos conciertos, se presentará en Paris, Londres, Zúrich, Milán y 16 ciudades de España a partir del 23 de junio.
En diciembre 2021, Camilo concluyó su gira Mis Manos Tour en México ante llenos totales en Europa, Estados Unidos, Puerto Rico, Argentina y Colombia.
Actualmente el admirado cantautor se encuentra en plena grabación de su próximo álbum de estudio.
Blindado con una impecable habilidad de composición y una sensibilidad intuitiva para el Pop de hoy, Camilo es uno de los artistas más influyentes de su generación. Antes de debutar como intérprete, el dos veces nominado al GRAMMY®️ y cinco veces ganador del Latin GRAMMY®️ de Medellín, Colombia, escribió y produjo grandes éxitos para múltiples artistas, pero fue su música la que trascendió y proporcionó la curación y la felicidad a millones de personas durante una pandemia mundial. Con el apoyo incondicional de 'La Tribu' (nombre de su legión de fans), ‬Camilo ha lanzado dos aclamados álbumes de estudio, "Por Primera Vez" y "Mis Manos", al igual que múltiples # 1, tanto en solitario como con colaboraciones estelares con superestrellas mundiales como Shakira, Ozuna, Rauw Alejandro, Shawn Mendes, Selena Gomez, El Alfa y Wisin, entre otros.‬‬‬‬‬‬
Loud And Live, una empresa de entretenimiento, mercadeo, medios y eventos en vivo, que fusiona música, deportes, estilo de vida y desarrollo de contenido. Con sede en Miami y presencia en Estados Unidos, Europa y América Latina, Loud And Live está impulsada por su pasión en crear experiencias atractivas para audiencias globales.
Sigue a Loud And Live en:
CAMILO
Announces North American Arena Tour
"Camilo– North American Tour 2022"
LAREDO, TX – GRAMMY® nominated and five-time Latin GRAMMY® winner, critically acclaimed, singer-songwriter Camilo has announced his upcoming "Camilo - North American Tour 2022." The tour, presented by entertainment company Loud And Live, will kick off on August 27 in New York at Radio City Music Hall, and will continue through November hitting major cities such as Miami, Houston, Dallas, Los Angeles, , Chicago, Boston, Atlanta, Toronto, Puerto Rico and more!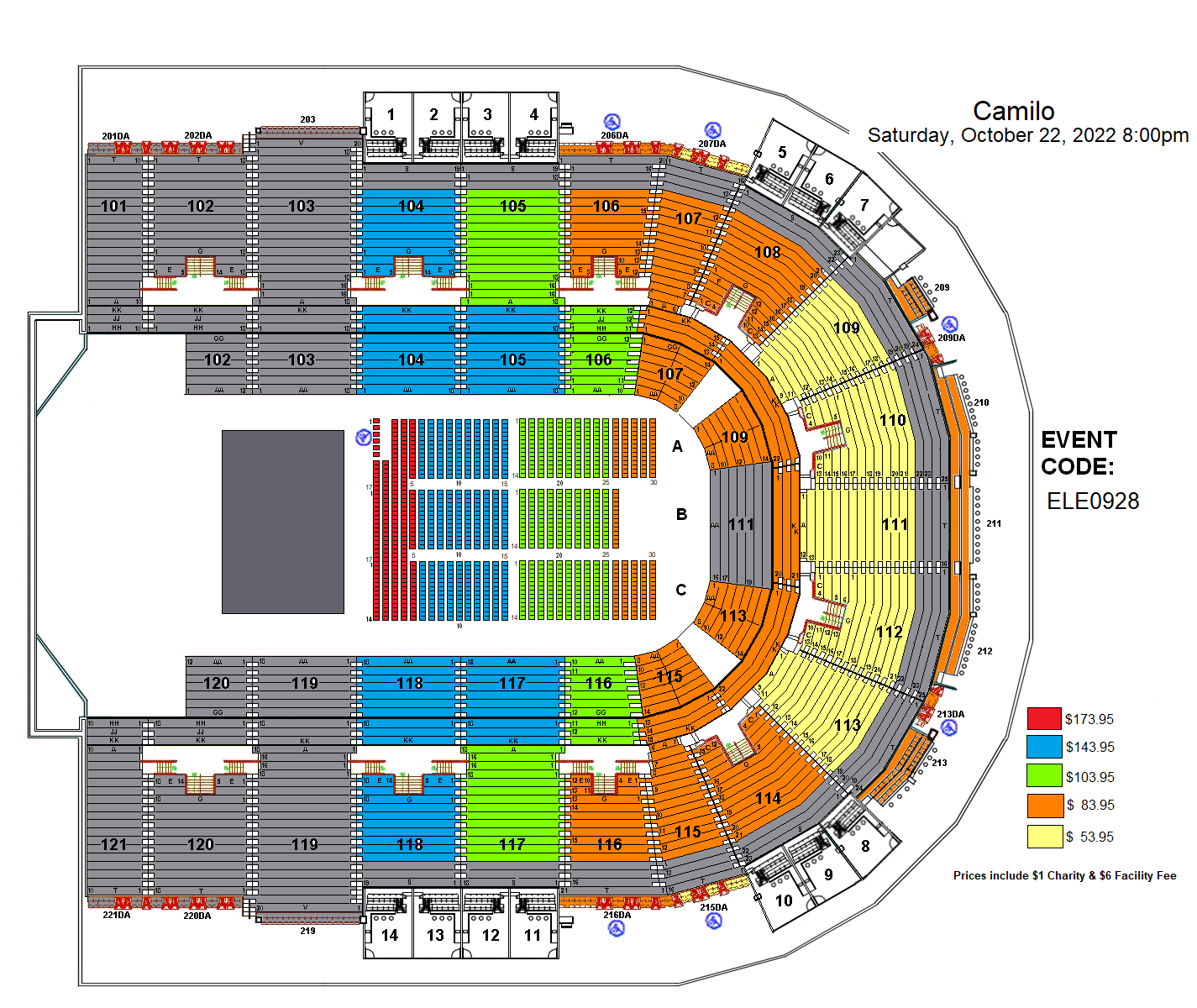 $173.95 | $143.95 | $103.95 | $83.95 | $53.95
(Facility & Charity Fees Included)
Tickets available at the Sames Auto Arena Box Office or Ticketmaster.com
Ticket Pre-Sales Begin Monday, February 28 via CamiloTour2022.com
This marks the first time Camilo will offer his show in the country's main arenas as well as in two Canadian cities, a notable feat not only for Camilo, but for La Tribu who have supported him from the start of his career.
"After collaborating in 2021 on Camilo's first and successful tour, Mis Manos US Tour, it is an honor to announce his return to the arenas of the United States, Puerto Rico and Canada with his Camilo – North American Tour 2022," said Nelson Albareda, CEO of Loud And Live.
Pre-sales will go live on Monday, February 28 and tickets will go on sale to the general public beginning March 3 at 10AM local time in each market at CamiloTour2022.com.
Before starting this tour, he will perform in Paris, London, Zurich, Milan and 16 cities in Spain starting June 23.
Most recently, Camilo wrapped up his sold-out Mis Manos Tour in December 2021 in Mexico after visiting major US cities as well as Puerto Rico, Argentina and Colombia.
Currently the admired singer-songwriter is working on his next studio album.