VIP Member Program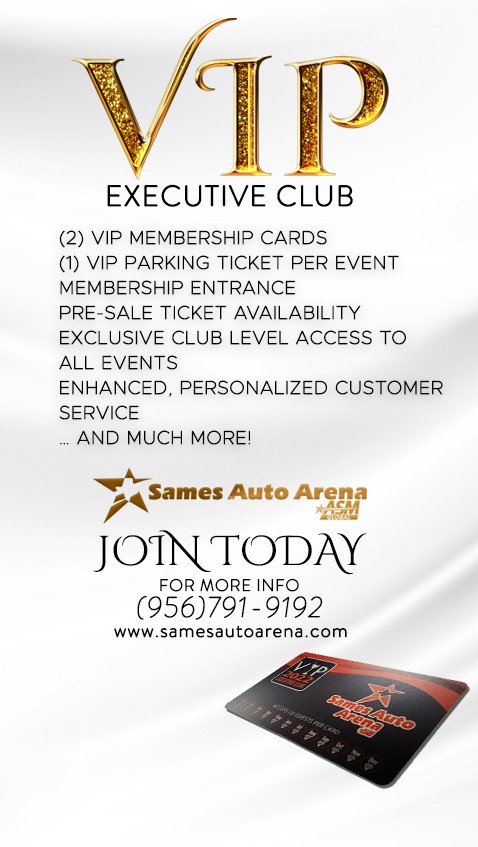 VIP MEMEBERSHIP BENEFITS & RULES:
Exclusive pre-sale availability to all Sames Auto Arena events in all price levels. An order form will be sent to email provided on contract when an event is announced. A ticket limit will be indicated on the order form per event. Seat assignment will be determined by venue and by a first-come first-serve process. The first 6 rows are usually unavailable. Please note that a TEXT MESSAGE does not qualify as an order. You must email order form with complete payment information – cash is only accepted if received on day ordered.



VIP Memberships are non-refundable nor transferrable to another person. Should building be informed that membership was transferred, membership will be canceled.




Exclusive VIP Entrance – located at venue's main entrance next to box office windows. VIP card and event ticket is needed to enter venue. The VIP card does not grant access in the building without an event ticket.




One (1) VIP Parking ticket for event purchased while supplies last– parking located in LOT B located in front of the box office, first right entrance on Arena Blvd from Jacaman Rd. Parking spaces may run out on events. Please order your parking tickets early through Anissa Trevino ONLY. * NOTE THAT YOUR VIP CARD WILL NOT GIVE YOU ACCESS TO VIP PARKING *YOU WILL NEED TO HAVE A PARKING TICKET*
Club level assigned seating between Sections 209 and 213 are sold only to VIP members through Anissa Trevino. This area is not available at the box office or online to purchase.




Two (2) VIP Membership cards grant access for two (persons) per card to our club area standing room area ONLY. Standing room only consists of the stools and tables located between Sections 209 and 213. All other sections in the club level are off limits. VIP members are not be allowed to sit in any assigned club seats without proper purchased assigned tickets.
For more information on the VIP Membership Program, please contact:

Anissa Trevino, Director of Marketing
[email protected]
(956) 523-7736