Details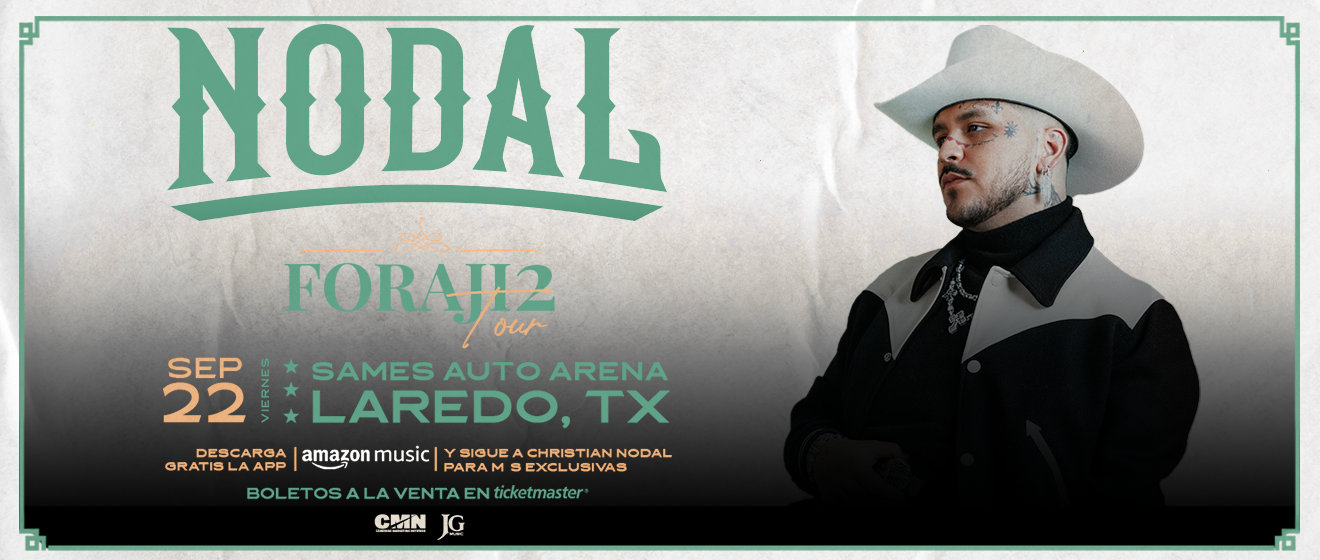 Friday, September 22, 2023

08:00 PM / Doors Open 7:00 PM
Buy Tickets
CMN Anuncia "Foraji2 Tour 2023,"
la Gira de Christian Nodal por Estados Unidos
El creador del "mariacheño" visitará ciudades del país a lo largo de tres meses. Preventa exclusiva para usuarios de Amazon Music empieza 10 de Mayo

MIAMI, May 8, 2023 – La empresa Cardenas Marketing Network (CMN) hoy anunció la nueva gira americana de Christian Nodal, bajo el título de 'Foraji2 Tour 2023' que cuenta con visitas a más de 30 ciudades en el país norteamericano. Nodal, conocido com el creador del 'mariacheño' que une los géneros musicales de norteño y mariachi, visitará las ciudades y salas de conciertos más importantes del país con un espectáculo único y renovado, sin abandonar la esencia que lo ha consagrado una de las estrellas más exitosas en el mundo del mexicano regional.

"Estar en el escenario y compartir mi música con los fans es donde más me siento yo. No veo la hora de estar con mi gente para mostrarles este nuevo show que tendrá muchas sorpresas y por supuesto, mucha música que pone la cultura mexicana en alto, donde merece estar," expresó Christian Nodal, quien lleva meses preparando este nuevo espectáculo.

Boletos a la venta sabado, 13 de mayo @ 10:00 a.m.

Precio de Boletos:

$175 | $135 | $115 | $105 | $85 | $65 | $45

(Tarifa de instalación incluida)

Boletos disponibles en las taquillas del Sames Auto Arena o Ticketmaster.com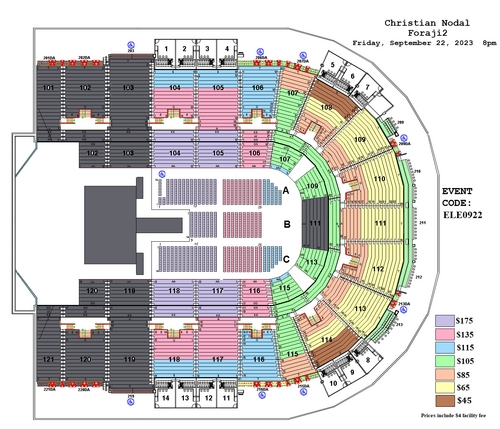 La gira, que cuenta en principio con 31 fechas, comienza el viernes 25 de agosto en el Honda Center de Anaheim, California y termina el domingo 12 de noviembre en el Santander Arena de Reading, Pennsylvania. Serán tres meses visitando varias ciudades en los estados de Arizona, California, Florida, Nueva York, Texas y más.
"No se puede negar la popularidad y el alcance de la música regional mexicana por lo cual siempre ha sido importante para nuestra empresa," agregó Alex Cardenas, director de giras en CMN. "Es nuestro orgullo producir de nuevo el tour de Christian Nodal, uno de los grandes de la música latina, que sigue rompiendo récords y barreras."
Usuarios de Amazon Music pueden acceder a la preventa entre el 10 y 13 de mayo solo bajando la aplicación de Amazon Music para obtener el código exclusivo. La compra de boletos en preventa será a través de www.cmnevents.com. Desde hoy pueden registrarse y bajar la aplicación sin costo visitando amazon.com/nodal en su teléfono móvil. En la aplicación podrán disfrutar de la playlist [RE] Discover Christian Nodal, una selección de lo mejor del artista. Visiten amazon.com/playnodal.
La venta oficial para el público en general empieza el 13 de mayo.
Sobre Christian Nodal:
Nacido en Caborca, Sonora, México, Christian Nodal es el artista que ha crecido con más rapidez en el género de la música regional mexicana, fusionando los sonidos clásicos de la música mariachi con el acordeón, para crear el "mariacheño", un término que él mismo acuñó. Actualmente, es el cantautor regional mexicano más exitoso, ganador de cinco Latin GRAMMY, ocho Latin Billboard, once Latin AMA Awards, diez Premios Lo Nuestro, ocho Premios Juventud, un reconocimiento a su 'Extraordinaria Evolución' por los Latin AMA Awards y dos Premios Tu Música Urbana. Christian es seguido por un promedio de nueve millones en Instagram, nueve millones en Facebook y 600.000 en Twitter. Tiene diez millones de suscriptores en YouTube, con más de ocho billones de vistas, y 20 millones de escuchas en Spotify.
Sobre CMN:
CMN es la compañía latina líder de entretenimiento en vivo en Estados Unidos, con alcance e influencia en todo el continente. Desarrollando constantemente proyectos en el mundo de la música, el arte y los deportes, es ejemplo multicultural de organización y emprendimiento. Ha producido las históricas giras de Bad Bunny, Daddy Yankee, FEID, Ana Gabriel, Marc Anthony, Manuel Turizo y la Banda MS. Más información en www.cmnevents.com o en @cmnevents en Twitter e Instagram.
Sobre Amazon Music
Amazon Music es un servicio de entretenimiento de audio inmersivo que conecta a fans, artistas y creadores a través de la música, los podcast y la cultura. Amazon Music acerca a los fans a lo que les gusta, con listas de reproducción comisariadas y personalizadas, streaming en directo de artistas, mercadería de artistas y podcasts exclusivos de Amazon. Los clientes de Prime tienen acceso a más de 100 millones de canciones en modo aleatorio, listas de reproducción sin restricciones y el mayor catálogo de podcasts sin anuncios, incluidos en su suscripción. Los clientes pueden abonarse a Amazon Music Unlimited para tener acceso completo y escuchar 100 millones de canciones en HD y un catálogo creciente de audio Ultra HD y Spatial. Cualquiera puede escuchar Amazon Music descargando la aplicación gratuita Amazon Music, en los dispositivos que use para escuchar música, incluidos los dispositivos con Alexa. Más información en https://www.amazon.com/music
CMN Announces Christian Nodal
U.S. Tour Titled "Foraji2 Tour 2023"
The innovative creator of fusion genre "mariacheño" will visit cities across the country over three months. Exclusive presale for Amazon Music users begins May 10
MIAMI, May 8, 2023 – Cardenas Marketing Network (CMN) today announced the new American tour of Christian Nodal, titled 'Foraji2 Tour 2023,' that will visit more than 30 cities across the country. Grammy Award-winning Nodal, known as the creator of 'mariacheño' that unites the musical genres of norteño and mariachi, will visit the country's largest and most important venues with a fresh and unique show that stays true to the essence that has rapidly made him one of the most successful stars in the world of Regional Mexican music.
"Being on stage and sharing my music with fans is where I feel the most myself. I can't wait to be with my fans to show them this new show that will have many surprises and of course, a lot of great music that celebrates Mexican culture in the way that it deserves," said Christian Nodal, who has been preparing the new show for months.
Tickets On Sale Saturday, May 13 @ 10:00 a.m.
$175 | $135 | $115 | $105 | $85 | $65
Tickets available at the Sames Auto Arena Box Office or Ticketmaster.com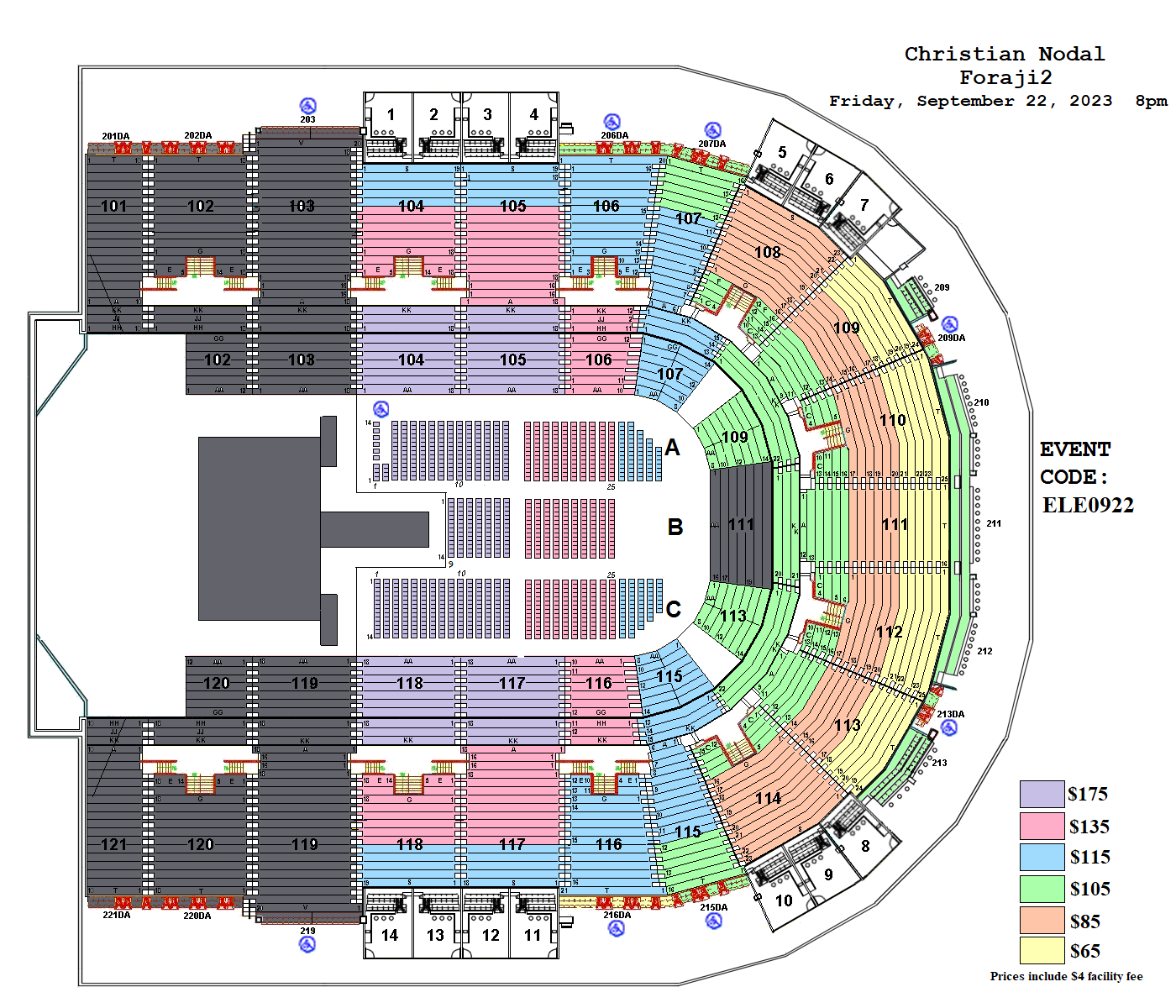 The tour, consisting of 31 planned dates, begins on Friday, August 25 at the Honda Center in Anaheim, California and ends on Sunday, November 12 at the Santander Arena in Reading, Pennsylvania. The show will visit states including Arizona, California, Florida, New York, Texas and more, over the course of three months.
"There is no denying the popularity and reach of regional Mexican music, which is why it has always been important to our company," added Alex Cardenas, director of tours at CMN. "We are proud to once again produce Christian Nodal's new tour, given that as one of the greats of Latin music, he continues to break records and barriers."
Amazon Music users can access the pre-sale between May 10 and 13 by simply downloading the Amazon Music app to obtain an exclusive code. Pre-sale tickets can be purchased on www.cmnevents.com. Starting today, you can sign up and download the app for free by visiting amazon.com/nodal on your mobile phone. In the Amazon Music app, fans can also enjoy the best of the artist on the playlist [RE] Discover Christian Nodal,amazon.com/playnodal. The official sale for the general public begins on May 13th at 10am local time.
About Christian Nodal:
Born in Caborca, Sonora, Mexico, Christian Nodal is the fastest-growing artist in the regional Mexican music genre, fusing the classic sounds of mariachi music with the accordion to create "mariacheño," a term that he himself coined. Currently, he is the most successful regional Mexican singer-songwriter, winner of five Latin GRAMMYs, eight Latin Billboard awards. 11 Latin AMA awards, ten Premio Lo Nuestro awards, eight Premios Juventud awards, recognition for his 'Extraordinary Evolution' by the Latin AMA awards and two Tu Música Urbana awards. Christian is followed by an average of nine million on Instagram, nine million on Facebook and 600,000 on Twitter. He has ten million subscribers on YouTube, with more than eight billion views, and 20 million listeners on Spotify.
About CMN:
CMN is the leading Latin live entertainment company in the United States, with reach and influence throughout the continent. Constantly developing projects in the world of music, art and sports, it is a multicultural example of organization and entrepreneurship. The company is responsible for producing the world renowned and notable tours featuring legendary artists including Bad Bunny, Daddy Yankee, FEID, Ana Gabriel, Marc Anthony, Manuel Turizo and La Banda MS. More information at www.cmnevents.com or at @cmnevents on Twitter and Instagram.
About Amazon Music
Amazon Music is an immersive audio entertainment service that connects fans, artists, and creators through music, podcasts, and culture. Amazon Music brings fans closer to what they love, with curated and personalized playlists, artist livestreams, artist merch, and Amazon Exclusive podcasts. Prime members get access to over 100 million songs in shuffle mode, All-Access playlists, plus the largest catalog of top ad-free podcasts, included with their membership. Customers can upgrade to Amazon Music Unlimited for full, on-demand access to 100 million songs in HD and a growing catalog of Ultra HD and Spatial audio. Anyone can listen to Amazon Music by downloading the free Amazon Music app, or wherever they listen to music including Alexa-enabled devices. Learn more at www.amazonmusic.com.